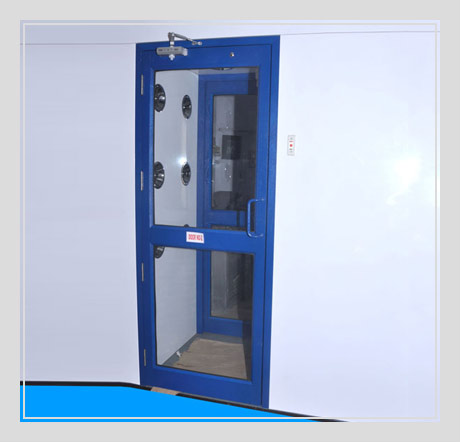 We Offer Outstanding Quality of Air Shower for our Clients. The Air Shower are Fabricated under the stern Supervision of our Technical Experts by Making use of Pristine Quality Components and advanced Machinery in tandem with Industry Norms. Air Showers are specialized antechambers and are used by Operator prior to Entering Clean Rooms in order to decontaminate.
The New Generation Air Showers incorporate Micro Processors for easy use & save precious Time during Entry. Air Showers are available as
Straight Entry Straight
Exit Straight Entry Right
Exit Straight Entry Left Exit
Tunnel Type.
Air Shower may be Two Door or Three Door. Air Shower may have Existing Flooring or Special Flooring. These New Hybrid Air Showers a.k.a Negex have more built in safe features & incorporate better end user requirements.
1. Negex are provided with Industrial Grade Electromagnetic Locks having Single Body and No Moving Parts. Even the Doors have Strong & Robust Stainless Steel Striker operating at High Static Holding Force.
2. The Doors are Durable either Aluminium or Mild Steel or Stainless Steel Framed Door with Float or Tempered Glass.
3. As Safety measure now Negex have Emergency Buttons along with User Lights on both sides of Shower for all Doors to be Unlocked Instantly.
4. Electrical Main Breaker Switch are mounted on inside the Work zone for rapid shutdown of the system & All Doors to be immediately Unlocked.
5. Electronic Ballasted Lights ensure reduction of energy costs.
6. Permanently Lubricated Direct Drive Centrifugal Blowers.
7. Interlocking of both Exit & Entry Doors ensures both Doors from being opened. All doors are unlocked automatically in case of power failure for safety reasons.
8. Duration of Air Shower is programmable.
9. Continuous Flow of Air is available at lower speeds at stand by mode thereby reducing energy consumed & maintaining the chamber Clean.
10. Time Watch along with Thermometer have been provided for instant display.
11. Stainless Steel flooring ensures easy maintenance & cleaning.